Name of Model: Parking (also below: Grownups)
Created by: Azaghal Gabilzaramul (the second one is by Chris Doyle)
Found at: http://www.flickr.com/photos/mooseteg/4108022884/ and http://www.reasonablyclever.com/bh/bonus1.html
Details: XKCD has recently made some waves in the LEGO fan community due to a comic strip that uses LEGO as a metaphor. While the XKCD webcomic can be a bit racier than most of the things I link to here, I personally find it to be brilliant. Unlike most of the people just discovering it, I'm well aware that there are also extra punchlines hidden in the title attribute (that's my polite way of saying that if you saw that strip on another LEGO blog, you've not read the entire comic). You should be able to hold your cursor over the image to make the title appear - you can try it out on the images below in this post.

Although that one strip has been getting all of the attention, there are a few other classic XKCD comic strips that have actually been rendered into LEGO form, one of which is today's model of the day. Here's the minifig version of #562, "Parking":



(zoom in)

Another strip was made by Chris Doyle of Reasonably Clever fame (Reasonably Clever is a webcomic entirely populated by minifgs). He took on #150, "Grownups":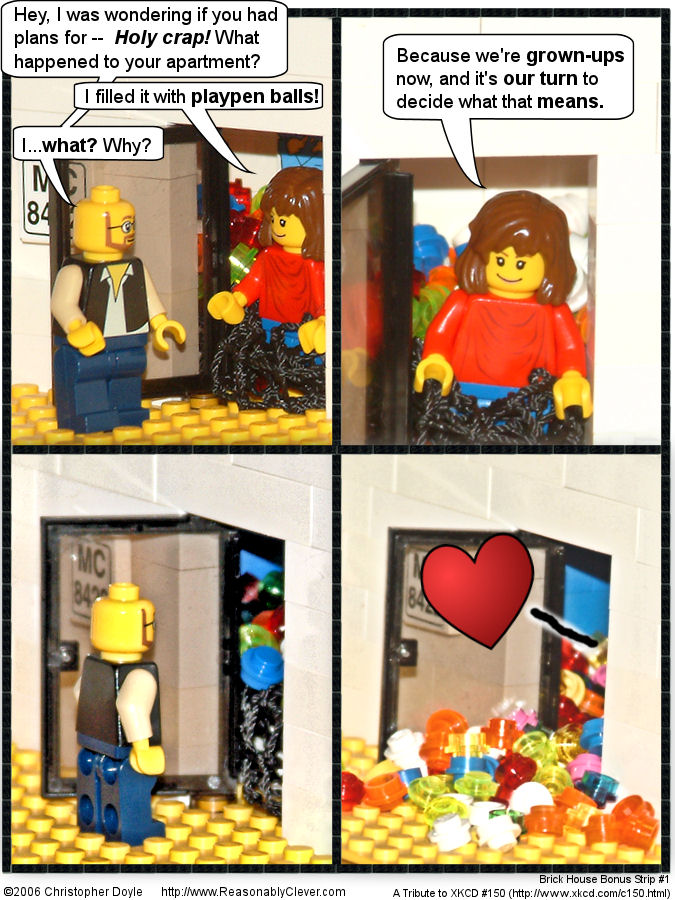 I was all set to go with posting this as Tuesday's model of the day, but since it's only two clicks from this post to something I figure most people don't want their kids to see, I've decided to bury it a little by running it for the weekend. Consider Doyle's strip to be Saturday's LMOTD and the one featured more prominently above to be Sunday's. Oh, and if you are reading this and under the age of 18, just skip the more provocative comics and instead try to teach yourself perl, because the man making the comics is completely right.